Three of Swords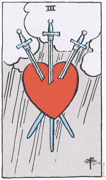 One of the most disquieting cards of the Tarot is the Three of Swords. The images show three swords penetrating the heart, which implies that you may be going through a state of intense sorrow. This card shows separation, divorce, and perhaps even the harmful intrusion of a third party, as in an extramarital affair. The falling rain seems to enhance the dismal nature of this card, but fear not. From the fall of rain comes growth. You will become stronger from this experience, and your own inner love will shine through.
Return to Tarot Meanings to see more cards!

Illustrations and images from the Rider Tarot Deck reproduced by permission of U.S. Games Systems, Inc., Stamford, CT 06902 USA. Copyright © 1971, 1982 by U.S. Games Systems, Inc. The Rider Tarot Deck ® is a registered trademark of U.S. Games Systems, Inc. The world's largest source of tarot and cartomancy is U.S. Games Systems, Inc. A catalog may be obtained by contacting the company at 179 Ludlow Street, Stamford, CT 06902, Fax: 203-353-8431 or call 1-800-544-2637.