The Moon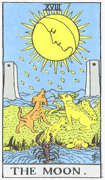 The Moon is the nineteenth card in the Major Arcana, and is given the number 18 to indicate the conscious mind represented by the Magician (1) assimilating the wild rage of the lion with the spirituality of the maiden in Strength (8). (Also, in planetary magick, 9 is the number of the Moon, and 1 plus 8 equals 9.) A lobster-like creature rises from the water, as it has been theorized that humankind originally did. It begins to travel a path toward the Moon. The path is flanked by a dog and a wolf—one tame, one wild—two sides of the same coin. In the distance, the path winds between two pillars, obviously manmade. The journey could represent the development of humankind, with the goal being a return to the psychic energy we were created in, embodied here by the Moon. The Moon controls the tide, and also brings out the wilder side in people. It is historically linked with magic and portents, and its mysteries are eternal. It is also associated with illusions, and what is seen by its light is not necessarily real...
When the Moon appears in your present, things are not as they seem. Deception of one's self, or from another, is strongly indicated. Extreme caution when dealing with others is advised. New information comes to you, possibly in dreams or through a vision. In any case, when the truth is exposed, it must be dealt with. Accepting the darker, wilder side can bring peace; denial only brings chaos.
Return to Tarot Meanings to see more cards!

Illustrations and images from the Rider Tarot Deck reproduced by permission of U.S. Games Systems, Inc., Stamford, CT 06902 USA. Copyright © 1971, 1982 by U.S. Games Systems, Inc. The Rider Tarot Deck ® is a registered trademark of U.S. Games Systems, Inc. The world's largest source of tarot and cartomancy is U.S. Games Systems, Inc. A catalog may be obtained by contacting the company at 179 Ludlow Street, Stamford, CT 06902, Fax: 203-353-8431 or call 1-800-544-2637.