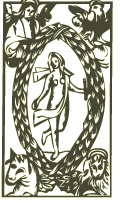 This section is dedicated to a collaborative exploration of Tarot, its meanings, symbols, and impact on our lives. Periodically, we introduce a new topic. Visitors to our site are welcomed to submit an essay sharing their views on the topic.
We add essays to this page as we receive them so check back often. After they've been up for awhile, topics are archived to list that will be accessible from this page (we're still on the first one). You may submit an essays for archived topics.
Essay can be anywhere from two paragraphs to many, depending on how deep into the topic you want to go. Topic essays, as well as ideas for future topics, should be submitted to Christian via the Contact Us form on our Web site.
First Tarot Topic: My Tarot Trump
Each of us can probably associate with a particular card or cards in the Major Arcana of the Tarot. The Major Arcana, or "Tarot Trumps" represent important personal spiritual influences in our lives, major life-changes, and events of significant impact. Choose a card from the Major Arcana of your favorite deck. Tell how you relate to that card: it's relationship to your goals, past, obstacles, hopes, dreams, spiritual path, and other significant life choices and events. How do you see yourself in that card? How did a reading in which that card appeared change your life? Are there individual symbols contained within the card that help you relate to it?
More than one exploration of the same card is welcome, as each of us has a different perspective and we often read from very different decks.
TEMPERANCE and the other Moral Lessons
By Artemis/mother of Isis
My Tarot Trump: The Fool
By Twilight-Dreamer
My Tarot Trump: The High Priestess
By *StarShadow*
My Tarot Trump: Strength
By Serenity
My Tarot Trump: The Devil
By Swan Ruby
My Tarot Trump: The Star
By MotherWisdom