Below, we present a selection of some of the finer historical and "Witchy" places around town, as well as some choice places to stay or dine. Feel free to print this page out and, if you are planning a visit, you'll have this as your guide to the many enchanting places to see.
Historic Places
The Witch House
310-1/2 Essex Street, Salem. (978) 744-0180
This historic house, built in 1642, earned its name because it was once the home of Judge Jonathan Corwin, who helped preside over the infamous Salem Witch Trials of 1692. The accused were often brought here to be examined for supposed "Witches' marks".
The Burying Point
Charter Street
The Burying Point is the oldest cemetery in Salem. If you love roaming through old graveyards, make sure you stop here. Among the buried is Judge John Hathorne, the most malevolent of the Witch Trial judges. Also located within the Burying Point is the Witch Trials Memorial, erected in 1992. No headstone rubbing please!
The House of the Seven Gables
54 Turner Street, Salem. (978) 744-0991
This house was made famous by the Nathaniel Hawthorne novel of the same name. Make sure you visit this treasured icon of America's past. A tour includes Hawthorne's birthplace, seaside gardens, a Museum Store, and a Garden Cafe. Open daily, all year long. Don't forget to explore the secret staircase...
Gallows Hill Park
At what is now a baseball field and children's park, in 1692, twenty innocent people were condemned to die here. Nineteen were hanged while one was crushed under heavy stones. Each year at Halloween, the Witches of Salem hold a public circle to commemorate those who died in Salem in 1692. We also honor all those who died for freedom, including great leaders of our recent past. Immediately following the ritual, we hold a candlelight procession to the center of town.
Salem Common
Washington Square
The Common has been a centerpiece of Salem culture since the 17th century. Used as a training ground for militia in its early days, Salem Common has since become a place to picnic, walk the dog, play basketball, or unwind on a comfortable park bench. During the summer, the Common is often host to many an outdoor concert or festival, and you'll sometimes even see Witches holding public rituals honoring the sacred holidays of nature. Perhaps the best part about Salem Common is the popcorn cart that has been there as long as I can remember.
Museums
The Salem Witch Museum
19 1/2 Washington Square North, Salem. (978) 744-1692
The Salem Witch Museum presents a history of the witch trials of 1692. Using life size figures, stage sets, a sound track narration and lighting, the museum recreates the accusers and accused, the court proceedings and finally the execution of 20 victims. The thought-provoking narration invites visitors to ponder questions of human rights and tolerance that affect contemporary life and determine for themselves how a witch hunt can occur. Translations available in French, German, Japanese, Spanish and Italian. Open all year. Closed Thanksgiving, Christmas and New Year's Day. Admission: $4.50 - Adult, $4.00 - Senior Citizen, $3.00 Child (6-14 years).
The Peabody Essex Museum
Liberty and Essex streets, Salem. (978) 745-9500
This respected museum is a cluster of locations around Salem. They have a huge collection of pre-Columbian American art, a variety of Asian artifacts and folk art, early american architecture, costumes, and an exploration of the rich maritime history of the region. The museum is also home to many of the original court records of the Salem Witch Trials. While researching for a an essay on the Vulnerability of Women to Witchcraft Accusations, Christian held some of those documents in his hands. It was a moving experience. Make the Peabody Essex Museum one of your stops during your exploration of Salem.
Gift Shops
Lotus Gifts
Within the Museum Place Mall, Salem.
A favorite at the museum place mall for years, Lotus features some of the finest in Asian gifts, clothing, and foods. Among our favorites are their gorgeous porcelain Chinese masks and the delicious oriental sauces that can be used whenever you'd like dinner to be on the exotic side. They also carry beautiful statues of the goddess of mercy: Quan Yin.
Aroma Sanctum
5 Central Street, Salem New Location!
One of the first things you'll notice when you walk into this gorgeous store is the scent. It is the specialty of proprietress, Akuura Kulak, a skilled aromatherapist and perfume designer, who creates her mystical fragrances using her skilled knowledge of worldwide traditions of pants, flowers, and herbs, and her incredible sense of what smells great. Akuura can even create a personal fragrance to your own biochemical and spiritual nature. Sandra swears by her "Scarlet Letter" oil and moisturizer, and Christian loves the mystically fragrant scent of "Celestial Smoke." And, lately, they've both been using the various fragrant soaps available, including Patchoulli, Vanilla, and Pumpkin Spice!
Bookstores
Pyramid Books - The New Age Store
Derby Street, Salem.
Located in Salem for over a decade, Pyramid has introduced many people to the emerging sense of global spirituality called the New Age. They feature books on a range of mystical subjects in both the Eastern and Western traditions including meditation, Goddess worship, Hinduism, Buddhism, Witchcraft, Celtic mythology, and candle magic. Explore their many decks of Tarot cards and books on how to use them. You'll often find us looking for a new deck or book to add to our ever-growing collections.
Fun Attractions
The Salem Whale Watch
197 Derby Street, Salem. (800) 745-9594
The East India Cruise Company brings you this fascinating trip out on the open seas, in search of nature's largest creatures. While in Salem, book passage on the Super Ranger, and go in search of the great whales of the Atlantic as you cruise along the scenic New England seacoast. People of all ages will enjoy this thrilling experience.
The Salem Trolley
57 Wharf Street, Salem. (978) 744-5469
Take a "ride through history" along the streets of Salem with the Salem Trolley. They feature professional tour guides, well versed in Salem history, who tell tales of Witches and mariners as they educate you about our town's rich heritage. This is a wonderful way to introduce yourself to the variety of places to visit here. Afterward, you can go back on foot and explore the places you liked the most in greater depth!
Pioneer Village
Forest River Park, Salem. (978) 745-0525 or 744-0991
This replica of a 1630 colonial village shows what life was like for Salem's earliest settlers. On the grounds you'll find recreations of early colonial cottages, a duck pond, and occasionally you'll even see live theater reenactments of 17th century events. Pioneer Village is part of Forest River Park, where you'll find a two beaches, a pool, and a fine playground. Open May through October.
Salem Willows Park
Salem. (978) 745-0251
Sandra and Christian spent many a Summer day here during their youth, playing skeeball and video games, or enjoying one of the famous chop suey sandwiches from Salem Lowe. Have a picnic beneath the old willow trees, relax on the beach, or take a walk on the pier. While at the Willows, pay a visit to the Gypsy Grandma, one of the oldest attractions of the park. Drop a quarter in the slot, and she will tell your fortune. Wehave found her to be very truthful—we even consulted her once or twice during the creation of these pages.
Witch Shops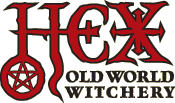 246 Essex Street, (978) 666-0765
Cast your own spell at Salem's newest Witch shop! Located across from the Samantha statue, Hex honors the old ways of Witchcraft and Hoodoo with ritual tools, jewelry, incense, candles, oils, statues, charms, roots, and herbs! Also get readings from Salem Witches (and proprietors) Christian Day and Leanne Marrama! Click here to visit us online!
The Broom Closet
3 Central Street, (978) 741-3669
Salem's Finest Shoppe for Witches and Others
For those who prefer a more supernatural form of travel, choose your preferred mode of Witchy transportation at the Broom Closet! While they don't actually take flight, a good Witch's broom is said to offer protection over one's home and hearth and aid in astral travel. This charming shop also features magical attire, incense, candles, fine jewelry, a large selection of herbs and stones, tarot cards, and many "Witchellaneous" items. The Broom Closet features psychic consultations with Shawn Poirier, High Priest of the Salem Tradition of Witchcraft and co-host of Festival of the Dead!
Nu Aeon
Pickering Wharf, Salem. (978) 744-0202
Relocated from Derby Street to the line of shops skirting the Wharf, Nu Aeon boasts a gorgeous new look and a wonderful variety of supplies for the practitioner of the Arts Magickal. From the plush purple carpet to the walls, painted like parchment and lapis lazuli, the atmosphere alone is worth a stop in. The most prominent feature of the decor is a hand-designed and painted traditional Celtic triskellion, with four pentacles around it, built into the floor! This place feels like a temple within a Witch's home. They've even got an antique mantle, with the hearth painted to look just like a working fireplace, its shelf often used for actual ritual work. But the ambiance is just the beginning: top quality staples like incense, oils, and candles are available in a veritable rainbow of flavors. More permanent treasures, such as candle holders, jewelry, gargoyles, books, statues, and other surprises line the shelves. If you are looking for the best in ritual tools, the collection here is unsurpassed. Be sure to pick up your free copy of the PagaNet News, and a free incense wand, and tell them Christian at Salem Tarot sent you!
Places to Stay
The Hawthorne Hotel
On Salem Common, Salem. (800) 729-7829
The Hawthorne is an elegant, Federalist style hotel located in the heart of downtown Salem. It contains a fine restaurant, a tavern, and a gift shop full of treasures—all within walking distance of all the city's museums, historic attractions, downtown shopping, and the harbor.
The Salem Inn
7 Summer Street, Salem. (800) 446-2995
The Salem Inn, which comprises The West House (c. 1834) and The Curwen House (c. 1854), testifies to the glory that was 19th century Salem. These impressive and historic buildings, built with the wealth of those seafaring days, are centrally located among an impressive array of activities. The Salem Inn's 33 individually decorated rooms and suites provide an ensemble of amenities - private bath, color cable television, telephone and queen- and king-sized beds - some feature kitchenettes, fireplaces and jacuzzis. Antique and reproduction furniture grace both buildings. Call for reservations today!
Local Haunts
The Grapevine
26 Congress Street, Salem. (978) 745-9335
We was introduced to this wonderful restaurant by our friend Deborah Norris! Established in 1988, the Grapevine Restaurant offers some of Salem's finest food in a warm, comfortable atmosphere. Be sure to try their famous "Eggplant Dish", wonderful antipasto, and heavenly bread pudding dessert. In the Summer months, dine outside in the garden where they grow fresh herbs and edible flowers. The Grapevine serves dinner nightly from 5:30 until 10:00 p.m. and serves lunch three days a week - on Wednesday, Thursday, and Friday - between 11:30 and 2:30 p.m.
The Thai Place
Museum Place Mall, Salem. (978) 741-8008
A Salem favorite for over 6 years, the Thai Place offers fabulous cuisine at reasonable prices. The authors of this website consumed many a plate of their unequalled Pad Thai during its creation. Our favorite meal is Pad Thai, Golden Bags, and Chicken Satay with peanut sauce. Wealmost always get that so we can't comment on the rest of the menu, but we have no complaints!
The Salem Beer Works
278 Derby Street, Salem. (978) 741-7088
For those who love their beer, you won't find better than the Salem Beer Works for many miles. We think it's the best beer in Salem, and the food is sumptuous! Must haves include their soft beer pretzels and mouthwatering gourmet pizzas. Their greatest offering is their extensive variety of unusual and delicious beers that reflect the Halloween theme of Salem. Christian has never been a drinker, but he can never eat there without having a glass of their pumpkin ale.