Eight of Pentacles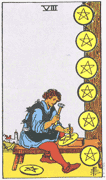 Skill and talent combine to form the energy of the Eight of Pentacles. The gentleman works diligently on his project, taking great care to produce quality, not quantity. His attention to detail and genuine love of his work will make him a master someday, but that is not his top priority. He loves his work, and betters himself as a person through it. The road from his workshop to the city in the distance shows his other motivation: doing well for the benefit of the community, not just himself. Stop and examine what you put your energy into, and realize that you derive more pleasure from work that benefits others as well as yourself.
Return to Tarot Meanings to see more cards!

Illustrations and images from the Rider Tarot Deck reproduced by permission of U.S. Games Systems, Inc., Stamford, CT 06902 USA. Copyright © 1971, 1982 by U.S. Games Systems, Inc. The Rider Tarot Deck ® is a registered trademark of U.S. Games Systems, Inc. The world's largest source of tarot and cartomancy is U.S. Games Systems, Inc. A catalog may be obtained by contacting the company at 179 Ludlow Street, Stamford, CT 06902, Fax: 203-353-8431 or call 1-800-544-2637.