Queen of Cups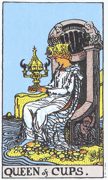 The Queen of Cups knows what she wants, and takes the steps necessary to get it. She symbolizes the strength of the abilities of the imagination and the psychic self. Seated at the edge of the ocean, she dips into these powers. As water takes the shape of its container, the Queen assumes the moods of others. This may be what you are doing, or it may describe the actions of a person important to your current situation.
Return to Tarot Meanings to see more cards!

Illustrations and images from the Rider Tarot Deck reproduced by permission of U.S. Games Systems, Inc., Stamford, CT 06902 USA. Copyright © 1971, 1982 by U.S. Games Systems, Inc. The Rider Tarot Deck ® is a registered trademark of U.S. Games Systems, Inc. The world's largest source of tarot and cartomancy is U.S. Games Systems, Inc. A catalog may be obtained by contacting the company at 179 Ludlow Street, Stamford, CT 06902, Fax: 203-353-8431 or call 1-800-544-2637.