King of Cups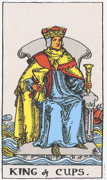 The King of Cups directs his creative powers to achieve success. He practices self discipline, sometimes even at the expense of his dreams, to rise to power. The water seen rolling in waves denotes his emotional powers, as he is a caregiver, capable of manifesting harmonious situations and feelings. You, or one close to you, channels creative energy into something to benefit more than yourself, or him/herself.
Return to Tarot Meanings to see more cards!

Illustrations and images from the Rider Tarot Deck reproduced by permission of U.S. Games Systems, Inc., Stamford, CT 06902 USA. Copyright © 1971, 1982 by U.S. Games Systems, Inc. The Rider Tarot Deck ® is a registered trademark of U.S. Games Systems, Inc. The world's largest source of tarot and cartomancy is U.S. Games Systems, Inc. A catalog may be obtained by contacting the company at 179 Ludlow Street, Stamford, CT 06902, Fax: 203-353-8431 or call 1-800-544-2637.