Page of Swords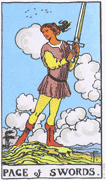 Frequently, the Page of Swords refers to you, or someone who strongly influences your life in the situation in question, but does not have to be male. He seeks higher ground, using his standpoint to master difficulties. He watches for trouble over his shoulder. In the card, the wind blows the trees and his hair, symbolizing changing circumstances, unpredictable behaviors, and wavering opinions in the current situation. Flexibility and adaptability are key.
Return to Tarot Meanings to see more cards!

Illustrations and images from the Rider Tarot Deck reproduced by permission of U.S. Games Systems, Inc., Stamford, CT 06902 USA. Copyright © 1971, 1982 by U.S. Games Systems, Inc. The Rider Tarot Deck ® is a registered trademark of U.S. Games Systems, Inc. The world's largest source of tarot and cartomancy is U.S. Games Systems, Inc. A catalog may be obtained by contacting the company at 179 Ludlow Street, Stamford, CT 06902, Fax: 203-353-8431 or call 1-800-544-2637.