The Hanged Man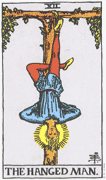 The Hanged Man is the thirteenth card in the Major Arcana, and is given the number 12 to indicate the combination of the Magician's (1) mastery over the elements with the High Priestess' (2) intuition and devotion to the search for esoteric knowledge. A man hangs by his ankle from a T shaped tree. The calm expression on his face and the fact that his hands are hidden behind his back indicate that he is not struggling; he has chosen to do this to gain enlightenment, symbolized by the halo around his head. Many religions contain tales of sacrifice leading to the betterment of humankind. The Hanged Man, like Odin or Christ, willingly gives up his mundane existence to attain a greater understanding that will benefit not only himself, but also his people.
The Hanged Man signifies that your situation may best be improved by letting go. This can involve a sacrifice of something you love in favor of your best interest, or it may mean that your struggle to manipulate and control things has made your situation worse. The action you should take in this case is to choose to be passive. When you relax and let events unfold, rather than second-guessing others and their motivations, you discover the true meaning behind the scenario. The Hanged Man can indicate that you should do the opposite of what you would typically do, or what would be expected of you.
Return to Tarot Meanings to see more cards!

Illustrations and images from the Rider Tarot Deck reproduced by permission of U.S. Games Systems, Inc., Stamford, CT 06902 USA. Copyright © 1971, 1982 by U.S. Games Systems, Inc. The Rider Tarot Deck ® is a registered trademark of U.S. Games Systems, Inc. The world's largest source of tarot and cartomancy is U.S. Games Systems, Inc. A catalog may be obtained by contacting the company at 179 Ludlow Street, Stamford, CT 06902, Fax: 203-353-8431 or call 1-800-544-2637.