The High Priestess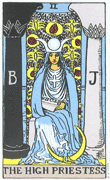 The High Priestess is the third card in the Major Arcana, and is given the number two to indicate the polarity inherent in all things. She sits between the pillars of light and darkness, mercy and severity, positive and negative. She has withdrawn from outside influences, going deep within to gain knowledge from behind the veil of consciousness. The scroll in her lap is labeled "TORA", the name of the Hebrew holy book, indicating her link to divinity. Behind her, the eternal ocean of emotions and intuition ebbs and flows, and she is the key to its mysteries.
The High Priestess indicates that you are seeking more esoteric knowledge, experiencing a spiritual awakening. The attainment of such wisdom requires discipline. She also reminds you to look for the subtle meanings beyond everyday events. You must listen to your inner voice to hear the truth that lies beyond the shallow, mundane world. Trust your instincts.
Return to Tarot Meanings to see more cards!

Illustrations and images from the Rider Tarot Deck reproduced by permission of U.S. Games Systems, Inc., Stamford, CT 06902 USA. Copyright © 1971, 1982 by U.S. Games Systems, Inc. The Rider Tarot Deck ® is a registered trademark of U.S. Games Systems, Inc. The world's largest source of tarot and cartomancy is U.S. Games Systems, Inc. A catalog may be obtained by contacting the company at 179 Ludlow Street, Stamford, CT 06902, Fax: 203-353-8431 or call 1-800-544-2637.