Five of Wands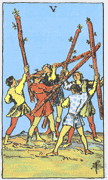 Healthy competition is indicated by the Five of Wands. Notice that nobody in the picture is causing harm to another. They are all simply vying for position. This card indicates that you could be in the position for success in business or in the workplace, but that competition could be slowing you down. Are you spending too much time on the weaknesses of others, rather than amplifying your own strengths and good qualities? Competition can often be good and force you to perform at your best level, but don't let it become an obsession for its own sake.
Return to Tarot Meanings to see more cards!

Illustrations and images from the Rider Tarot Deck reproduced by permission of U.S. Games Systems, Inc., Stamford, CT 06902 USA. Copyright © 1971, 1982 by U.S. Games Systems, Inc. The Rider Tarot Deck ® is a registered trademark of U.S. Games Systems, Inc. The world's largest source of tarot and cartomancy is U.S. Games Systems, Inc. A catalog may be obtained by contacting the company at 179 Ludlow Street, Stamford, CT 06902, Fax: 203-353-8431 or call 1-800-544-2637.