Ten of Wands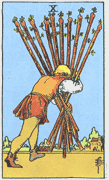 Depicting a person over-burdened by a heavy load, the Ten of Wands indicates that you have a lot of irons in the fire—be careful not to get burned! You may be overextending yourself. Though you typically enjoy being busy, it may be time to delegate if possible to reduce your stress and give you more time to enjoy a taste of freedom. Choose your challenges wisely, and you will be able to give more of yourself to them.
Return to Tarot Meanings to see more cards!

Illustrations and images from the Rider Tarot Deck reproduced by permission of U.S. Games Systems, Inc., Stamford, CT 06902 USA. Copyright © 1971, 1982 by U.S. Games Systems, Inc. The Rider Tarot Deck ® is a registered trademark of U.S. Games Systems, Inc. The world's largest source of tarot and cartomancy is U.S. Games Systems, Inc. A catalog may be obtained by contacting the company at 179 Ludlow Street, Stamford, CT 06902, Fax: 203-353-8431 or call 1-800-544-2637.