Four of Swords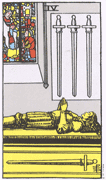 The Four of Swords represents an inner retreat that you are currently taking. Your present situation is very difficult and you may be in the midst of much turmoil. A temporary truce seems to be in place, and you are now seeking recuperation within. The swords on the wall symbolize your previous battles, and the sword at your side represents your current conflict. You will soon take up the sword again. The battle isn't over, but when you return to it, you'll be invigorated and able to formulate a mature, effective response. When combined with the Eight of Wands or the Six of Swords, this card can also mean that some kind of an actual trip may take place, one intended to bring you peace of mind.
Return to Tarot Meanings to see more cards!

Illustrations and images from the Rider Tarot Deck reproduced by permission of U.S. Games Systems, Inc., Stamford, CT 06902 USA. Copyright © 1971, 1982 by U.S. Games Systems, Inc. The Rider Tarot Deck ® is a registered trademark of U.S. Games Systems, Inc. The world's largest source of tarot and cartomancy is U.S. Games Systems, Inc. A catalog may be obtained by contacting the company at 179 Ludlow Street, Stamford, CT 06902, Fax: 203-353-8431 or call 1-800-544-2637.