Six of Pentacles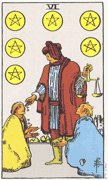 A quick glance at the Six of Pentacles shows a generous person giving to those less fortunate. The fact that the giver is standing while the others kneel reveals the deeper meaning. The scales symbolize the balance of power, which benefits both the giver and the receiver to varying degrees in this situation. The person or entity giving bases this generosity on the power it has over those who accept the charity or aid, and this may be mental, emotional, or sexual favors, not necessarily material ones. The person giving could actually be a job, and may be dominating an entire group of people who remain in the situation because they do not want to risk a change. You may find that you are getting what you need, but not what you want, and you must decide if your desires are strong enough to draw you out of your comfort zone.
Return to Tarot Meanings to see more cards!

Illustrations and images from the Rider Tarot Deck reproduced by permission of U.S. Games Systems, Inc., Stamford, CT 06902 USA. Copyright © 1971, 1982 by U.S. Games Systems, Inc. The Rider Tarot Deck ® is a registered trademark of U.S. Games Systems, Inc. The world's largest source of tarot and cartomancy is U.S. Games Systems, Inc. A catalog may be obtained by contacting the company at 179 Ludlow Street, Stamford, CT 06902, Fax: 203-353-8431 or call 1-800-544-2637.