Nine of Pentacles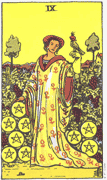 The person in the Nine of Pentacles has made her own way, and enjoys freedom within the boundaries she has created for herself. The wall of Pentacles she touches has been created and nurtured by her. She is alone but for her falcon, symbol of the intellect, which she has trained. The bird, like her, enjoys a modicum of freedom within the boundaries of its responsibilities. This person is self-sufficient, and cherishes her private time, her "space". She has sacrificed adventure and reckless abandon to achieve her goals, and she knows she made the right choice.
Return to Tarot Meanings to see more cards!

Illustrations and images from the Rider Tarot Deck reproduced by permission of U.S. Games Systems, Inc., Stamford, CT 06902 USA. Copyright © 1971, 1982 by U.S. Games Systems, Inc. The Rider Tarot Deck ® is a registered trademark of U.S. Games Systems, Inc. The world's largest source of tarot and cartomancy is U.S. Games Systems, Inc. A catalog may be obtained by contacting the company at 179 Ludlow Street, Stamford, CT 06902, Fax: 203-353-8431 or call 1-800-544-2637.