Two of Cups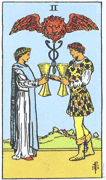 Love and deep friendship are suggested by the Two of Cups. You may be in the process of entering into a fulfilling love relationship. This union is based on passion and strength, symbolized by the lion, and a healthy attitude, suggested by the Caduceus, or wand of medicine. The man and woman facing each other, staring into one another's eyes, suggest the deeper sense of understanding that exists between them. You are probably feeling understanding with this person that you have felt with few others. Perhaps marriage is on the way.
Return to Tarot Meanings to see more cards!

Illustrations and images from the Rider Tarot Deck reproduced by permission of U.S. Games Systems, Inc., Stamford, CT 06902 USA. Copyright © 1971, 1982 by U.S. Games Systems, Inc. The Rider Tarot Deck ® is a registered trademark of U.S. Games Systems, Inc. The world's largest source of tarot and cartomancy is U.S. Games Systems, Inc. A catalog may be obtained by contacting the company at 179 Ludlow Street, Stamford, CT 06902, Fax: 203-353-8431 or call 1-800-544-2637.