The Tower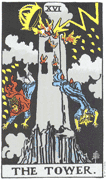 The Tower is the seventeenth card in the Major Arcana, and is given the number 16 to indicate the conscious mind represented by the Magician (1) faced with the breakdown of the unity found in the Lovers (6). Atop a craggy peak, the once-crowned Tower begins to crumble. Fire and Lightning ravage it from within and without. Two people, calling to mind the man and woman in the Lovers card (but clothed, indicating concealment), plunge to an uncertain fate, as flames erupt from the explosion. The destruction is devastating, but there is a purpose behind it. The walls of the Tower have been constructed by the materialistic Ego, and the force of chaos has come to tear them down in the name of spiritual development. The small, tear-shaped flames are symbolic because they resemble YOD, the first letter in the Hebrew name for God. They represent the spark of enlightenment that will brighten even the darkest hour.
Right now, you may be experiencing a time of turmoil. The phenomenon that "bad things" happen in threes, or other multiples, is a reality, and you may feel the rug of life being pulled out from under your feet. Like the Tower, you feel you have been struck from out of nowhere. Sometimes, a fire is needed to clear out dead wood, and clear space for the fresh seedlings that will someday be a great forest. If you feel overwhelmed, remember that you can only become stronger by surviving these trials.
Return to Tarot Meanings to see more cards!

Illustrations and images from the Rider Tarot Deck reproduced by permission of U.S. Games Systems, Inc., Stamford, CT 06902 USA. Copyright © 1971, 1982 by U.S. Games Systems, Inc. The Rider Tarot Deck ® is a registered trademark of U.S. Games Systems, Inc. The world's largest source of tarot and cartomancy is U.S. Games Systems, Inc. A catalog may be obtained by contacting the company at 179 Ludlow Street, Stamford, CT 06902, Fax: 203-353-8431 or call 1-800-544-2637.