Six of Cups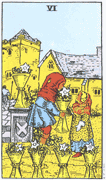 Childhood memories, family gatherings, and friends from the past are all suggested by the Six of Cups. You may be about to encounter a friend or lover from your past that you haven't seen in many years, if you haven't already bumped into this person. The child bearing the flowering cup indicates the positive nature of this meeting. The pleasant home in the background is also a strong indicator of family and home. You may be spending more time with family and old friends. Celebrate your past. It is the foundation for your dreams and goals in the future.
Return to Tarot Meanings to see more cards!

Illustrations and images from the Rider Tarot Deck reproduced by permission of U.S. Games Systems, Inc., Stamford, CT 06902 USA. Copyright © 1971, 1982 by U.S. Games Systems, Inc. The Rider Tarot Deck ® is a registered trademark of U.S. Games Systems, Inc. The world's largest source of tarot and cartomancy is U.S. Games Systems, Inc. A catalog may be obtained by contacting the company at 179 Ludlow Street, Stamford, CT 06902, Fax: 203-353-8431 or call 1-800-544-2637.