Knight of Cups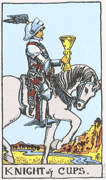 The Knight of Cups, dressed in blue to denote his sensitivity and emotional nature, signifies a dreamy, caring, loving individual from your present. This Knight pursues his thoughts and fantasies, and intuitively attunes to the needs of others. He may signify a lover who does not wish to commit, who is attractive, but passive. He does what he believes in, and is considered a charmer...someone you know, or is this you?
Return to Tarot Meanings to see more cards!

Illustrations and images from the Rider Tarot Deck reproduced by permission of U.S. Games Systems, Inc., Stamford, CT 06902 USA. Copyright © 1971, 1982 by U.S. Games Systems, Inc. The Rider Tarot Deck ® is a registered trademark of U.S. Games Systems, Inc. The world's largest source of tarot and cartomancy is U.S. Games Systems, Inc. A catalog may be obtained by contacting the company at 179 Ludlow Street, Stamford, CT 06902, Fax: 203-353-8431 or call 1-800-544-2637.