Ace of Cups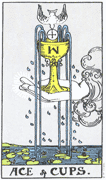 The Ace of Cups in your present situation suggests that you are experiencing a wellspring of emotions, especially love. Perhaps you are in the process of finding a new love interest, or discovering renewed feelings in a relationship you already have. The dove, representative of spiritual love, symbolizes the depth to which this emotional renewal is touching you. It has given you a new emotional perspective. The water flowing from the cup suggests that your emotional being (represented by the water below) is becoming recharged from this outpouring.
Return to Tarot Meanings to see more cards!

Illustrations and images from the Rider Tarot Deck reproduced by permission of U.S. Games Systems, Inc., Stamford, CT 06902 USA. Copyright © 1971, 1982 by U.S. Games Systems, Inc. The Rider Tarot Deck ® is a registered trademark of U.S. Games Systems, Inc. The world's largest source of tarot and cartomancy is U.S. Games Systems, Inc. A catalog may be obtained by contacting the company at 179 Ludlow Street, Stamford, CT 06902, Fax: 203-353-8431 or call 1-800-544-2637.