Nine of Cups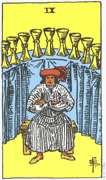 Enjoying the fulfillment of desire is indicated by the Nine of Cups. You may be in a place in your life where you are comfortable and happy, and are able to enjoy the many rewards of your past actions. Contentment and luxury are suggested by the imagery of the man, sitting comfortably, enjoying the nine cups arranged on the banquet table. Life is your banquet, and you've earned the right to enjoy it. In old tradition, the Nine of Cups is the "Wish Card" and was always thought to mean the fulfillment of one's innermost desires.
Return to Tarot Meanings to see more cards!

Illustrations and images from the Rider Tarot Deck reproduced by permission of U.S. Games Systems, Inc., Stamford, CT 06902 USA. Copyright © 1971, 1982 by U.S. Games Systems, Inc. The Rider Tarot Deck ® is a registered trademark of U.S. Games Systems, Inc. The world's largest source of tarot and cartomancy is U.S. Games Systems, Inc. A catalog may be obtained by contacting the company at 179 Ludlow Street, Stamford, CT 06902, Fax: 203-353-8431 or call 1-800-544-2637.