Four of Cups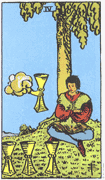 The Four of Cups indicates a strong sense of emotional retreat and discontent that you are experiencing. The man sitting against the tree seems to be closed off to new ideas. You may be focusing on the boredom you've been feeling with what you already have, suggested by the three cups at the man's feet. A new opportunity is being offered you and you may be turning it down, deciding instead to close yourself off. Perhaps you are in need of this retreat, and need to evaluate what's important to you, but spending too long in this mode can prevent you from moving forward.
Return to Tarot Meanings to see more cards!

Illustrations and images from the Rider Tarot Deck reproduced by permission of U.S. Games Systems, Inc., Stamford, CT 06902 USA. Copyright © 1971, 1982 by U.S. Games Systems, Inc. The Rider Tarot Deck ® is a registered trademark of U.S. Games Systems, Inc. The world's largest source of tarot and cartomancy is U.S. Games Systems, Inc. A catalog may be obtained by contacting the company at 179 Ludlow Street, Stamford, CT 06902, Fax: 203-353-8431 or call 1-800-544-2637.