Ace of Pentacles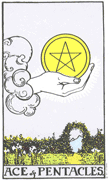 The hand in the Ace of Pentacles bestows its blessings in a garden full of a variety of delights. Earth's bounty is physical and comes in the form of tangible pleasures. Patience brings prosperity, and the one who has worked hard on this garden now takes pride in its beauty and abundance...good tending yields good results. The floral gate in the background, reminiscent of the ring surrounding the self-actualized person on the World card, can indicate a door of opportunity for new business, property, or other practical assets opening up for you.
Return to Tarot Meanings to see more cards!

Illustrations and images from the Rider Tarot Deck reproduced by permission of U.S. Games Systems, Inc., Stamford, CT 06902 USA. Copyright © 1971, 1982 by U.S. Games Systems, Inc. The Rider Tarot Deck ® is a registered trademark of U.S. Games Systems, Inc. The world's largest source of tarot and cartomancy is U.S. Games Systems, Inc. A catalog may be obtained by contacting the company at 179 Ludlow Street, Stamford, CT 06902, Fax: 203-353-8431 or call 1-800-544-2637.