The Star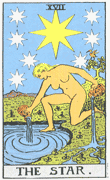 The Star is the eighteenth card in the Major Arcana, and is given the number 17 to indicate the conscious mind represented by the Magician (1) opening up to the many directions possible with the control over his Chariot (7). Below one giant yellow star (1), and seven smaller white stars (7), a beautiful woman kneels with one knee on land and one foot on the water. With a jug in each hand, she pours water into both. She is taking inspiration from her creative, intuitive side (water), applying it to her surroundings and daily life (earth), and using the power it gives her to replenish the source of her creativity (water), making a complete cycle. In essence, she is healing herself with water, the source of all life. Her nakedness is symbolic of her purity and honesty, to others as well as to herself. She is in her most natural state, indicating that her task comes with ease, and her calm, serene expression gives her work a meditative quality.
The Star represents your hopes and dreams. If you have ever wished that you could do meaningful work that you could actually enjoy, the Star indicates an opportunity. It is time for you to pursue your dream. Go to the source within your mind and heart, and replenish yourself by freeing your spirit. Allow your true self to shine through. Immerse yourself in the things that bring you joy, and inner peace. If your situation indicates health issues, this is a card that indicates a replenishing and healing of the physical body as well.
Return to Tarot Meanings to see more cards!

Illustrations and images from the Rider Tarot Deck reproduced by permission of U.S. Games Systems, Inc., Stamford, CT 06902 USA. Copyright © 1971, 1982 by U.S. Games Systems, Inc. The Rider Tarot Deck ® is a registered trademark of U.S. Games Systems, Inc. The world's largest source of tarot and cartomancy is U.S. Games Systems, Inc. A catalog may be obtained by contacting the company at 179 Ludlow Street, Stamford, CT 06902, Fax: 203-353-8431 or call 1-800-544-2637.