These are the cards that the Tarot has drawn for you. You may want to save or print this page if you would like to ponder their messages later.
Past
The Past position in the reading refers to recent events and challenges that just took place, things that lead up to the present situation, and your role in them.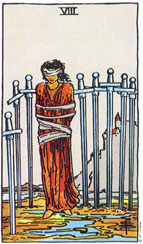 Eight of Swords
Oppression is symbolized by the Eight of Swords. You felt trapped and alone, unable to see your way through to a solution. The castle in the background suggests the authority figure that you felt was keeping you down. The swords are the opposition that kept you from moving. Look closer. Could you have been the one keeping yourself there? Notice that the woman in the picture does not have her feet tied,nor are the swords blocking her way. You were free to go all along. The oppressor in your life may have actually been real, but you gave away your power.

Present
The Present position in the reading represents what is happening right now. Typically, this is what triggers you to seek out a reading. This card can often help you to understand what steps to take next.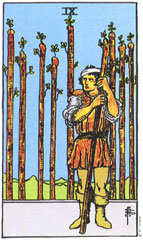 Nine of Wands
The Nine of Wands indicates a pause, a time to "wait and see." You have seen many battles relating to your situation, and you have fought hard. Like the man in the card whose head is bandaged but unbowed, your Will shall remain intact. These conflicts have strengthened you, but they have hardened you, making you better able to weather life's struggles, but at what price? Be aware of your defenses and when they are triggered...they may make you seem unapproachable. Someone will try to earn your trust, which is hard won at best. Don't pick fights, or see trouble where there isn't any; you can keep your thick skin, but don't build walls. In the end, you will only block yourself if you do.

Future
The Future position in teh reading describes what is just around the corner. It's an official "heads up" about where the situation is heading and how you may navigate through it towards the best possible outcome.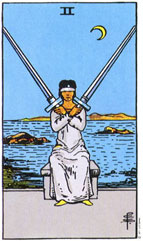 Two of Swords
The Two of Swords symbolizes a choice you will face. The decision is put off, and the seeker is stuck, unable to face the truth. The blindfold she wears willingly shows her inability to open her eyes to reality. She has chosen to turn away from her intuition and emotions, symbolized by the ocean. She is a passive participant, crossing her arms over her chest to protect her heart. Putting this decision off may buy you time to gain control over your emotions, but the decision will inevitably have to be made, and if you wait, it may be made for you.

We hope you enjoyed your Three Card Reading. To go even deeper, try our more comprehensive Ten Card Reading.
Tarot Phone Readings
For an in-depth psychic look into your situation, call one of our Tarot phone readers and get your first three minutes free!

Illustrations and images from the Rider Tarot Deck reproduced by permission of U.S. Games Systems, Inc., Stamford, CT 06902 USA. Copyright © 1971, 1982 by U.S. Games Systems, Inc. The Rider Tarot Deck ® is a registered trademark of U.S. Games Systems, Inc. The world's largest source of tarot and cartomancy is U.S. Games Systems, Inc. A catalog may be obtained by contacting the company at 179 Ludlow Street, Stamford, CT 06902, Fax: 203-353-8431 or call 1-800-544-2637.