These are the cards that the Tarot has drawn for you. You may want to save or print this page if you would like to ponder their messages later.
Past
The Past position in the reading refers to recent events and challenges that just took place, things that lead up to the present situation, and your role in them.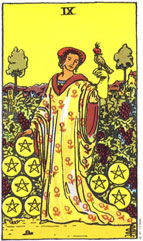 Nine of Pentacles
The person in the Nine of Pentacles made her own way, and enjoys freedom within the boundaries she created for herself. The wall of Pentacles she touches was created and nurtured by her. She is alone but for her falcon, symbol of the intellect, which she trained. The bird, like her, enjoys a modicum of freedom within the boundaries of its responsibilities. This person was self-sufficient, and cherished her private time, her "space". She sacrificed adventure and reckless abandon to achieve her goals, aware that she made the right choice.

Present
The Present position in the reading represents what is happening right now. Typically, this is what triggers you to seek out a reading. This card can often help you to understand what steps to take next.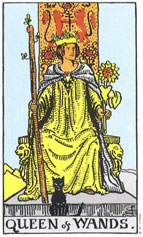 Queen of Wands
The receptive aspect of Fire, the Queen refers to you, or someone who strongly influences your life in the situation in question, but does not have to be female. In the card, the black cat at the Queen's feet can signify a guardian. Someone is watching out for you, or one close to you. Her throne is adorned with Lions, totems of Fire, symbols of royalty, and traditionally seen as fierce guardians. The Queen herself is full of passion. Her parted legs signify her intense desires and strong sexual energy. If this energy is lacking in your life, you may feel stagnant, bored, or hopeless. If it is abundant, you may be experiencing a time of great pleasure and joy. Just as the sunflower depicted on the card always turns toward the light, the Queen of Wands seeks the positive. She shows a real lust for life. Do you?

Future
The Future position in teh reading describes what is just around the corner. It's an official "heads up" about where the situation is heading and how you may navigate through it towards the best possible outcome.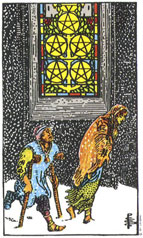 Five of Pentacles
The two unfortunate travelers experience severe hardships: loss of property, income, and health are all indicated in the bleak picture that is the Five of Pentacles. The church in the background is not a refuge for them: either they refuse its charity, do not recognize the opportunity it represents, or find no nourishment there. While a pessimist might focus on what they lack, an optimist would point out that they survive these hard times together, supporting each other. In this case, attitude will mean everything. Perseverance furthers—your strength will be found in those who love you.

We hope you enjoyed your Three Card Reading. To go even deeper, try our more comprehensive Ten Card Reading.
Tarot Phone Readings
For an in-depth psychic look into your situation, call one of our Tarot phone readers and get your first three minutes free!

Illustrations and images from the Rider Tarot Deck reproduced by permission of U.S. Games Systems, Inc., Stamford, CT 06902 USA. Copyright © 1971, 1982 by U.S. Games Systems, Inc. The Rider Tarot Deck ® is a registered trademark of U.S. Games Systems, Inc. The world's largest source of tarot and cartomancy is U.S. Games Systems, Inc. A catalog may be obtained by contacting the company at 179 Ludlow Street, Stamford, CT 06902, Fax: 203-353-8431 or call 1-800-544-2637.