These are the cards that the Tarot has drawn for you. You may want to save or print this page if you would like to ponder their messages later.
Past
The Past position in the reading refers to recent events and challenges that just took place, things that lead up to the present situation, and your role in them.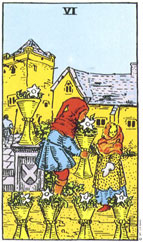 Six of Cups
Childhood memories, family gatherings, and friends from the past are all suggested by the Six of Cups. You may have encountered a friend or lover from your past that you hadn't seen in many years. The child bearing the flowering cup indicates the positive nature of this meeting. The pleasant home in the background is also a strong indicator of family and home. You may have spent more time with family and old friends. This is the root of the present situation, and serves as the foundation for the dreams and goals you are currently focusing on.

Present
The Present position in the reading represents what is happening right now. Typically, this is what triggers you to seek out a reading. This card can often help you to understand what steps to take next.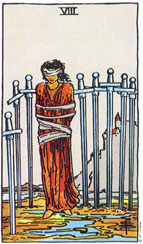 Eight of Swords
Oppression is symbolized by the Eight of Swords. You may be feeling trapped and alone, unable to see your way through to a solution. The castle in the background suggests the authority figure that you may feel is keeping you down. The swords are the opposition that is keeping you where you are. Look closer. Could you be keeping yourself there? Notice that the woman in the picture does not have her feet tied, nor are the swords blocking her way. You have been free to go all along. The oppressor in your life may actually be real, but you must not give away your power. You may be feeling that it's time to move on. Trust your inner voice.

Future
The Future position in teh reading describes what is just around the corner. It's an official "heads up" about where the situation is heading and how you may navigate through it towards the best possible outcome.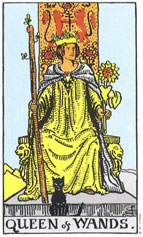 Queen of Wands
The receptive aspect of Fire, the Queen refers to you, or someone who will strongly influence your life in the situation in question, but does not have to be female. In the card, the black cat at the Queen's feet can signify a guardian. Someone will be watching out for you, or one close to you. Her throne is adorned with Lions, totems of Fire, symbols of royalty, and traditionally seen as fierce guardians. The Queen herself is full of passion. Her parted legs signify her intense desires and strong sexual energy. If this energy is not found in your life, you will feel stagnant, bored, or hopeless. If it is pursued, you may experience a time of great pleasure and joy. Just as the sunflower depicted on the card always turns toward the light, the Queen of Wands seeks the positive. She shows a real lust for life. Will you?

We hope you enjoyed your Three Card Reading. To go even deeper, try our more comprehensive Ten Card Reading.
Tarot Phone Readings
For an in-depth psychic look into your situation, call one of our Tarot phone readers and get your first three minutes free!
Joy Light is available!
Psychic Medium, Spiritual Counseling on Love & Relationships, Healer ... [see more]




$4.99/min -

First Time Callers get 3 Minutes Free!*

Benita Kay is available!
Certified Angel Oracle Card Reader / Psychic / Spiritual Healer ... [see more]




$5.99/min -

First Time Callers get 3 Minutes Free!*

Simon M is available!
Tarot Reader ... [see more]




$4.25/min -

First Time Callers get 3 Minutes Free!*

Syrenity Jones is available!
I am a very well enlightened Master Psychic with very powerful Spirit Guides. ... [see more]




$2.99/min -

First Time Callers get 3 Minutes Free!*

Rachel Riley is available!
Accurate psychic predictions, telepathy interpretation and business consulting ... [see more]




$4.00/min -

First Time Callers get 3 Minutes Free!*

Jennifer Scott Smith is available!
Clairvoyant and Tarot Readings, Psychic Mediumship ... [see more]




$3.99/min -

First Time Callers get 3 Minutes Free!*

Marilyn Peters is available!
Worried about love or finances ? Let an experienced & certified Psychic Help ! ... [see more]




$3.99/min -

First Time Callers get 3 Minutes Free!*


Illustrations and images from the Rider Tarot Deck reproduced by permission of U.S. Games Systems, Inc., Stamford, CT 06902 USA. Copyright © 1971, 1982 by U.S. Games Systems, Inc. The Rider Tarot Deck ® is a registered trademark of U.S. Games Systems, Inc. The world's largest source of tarot and cartomancy is U.S. Games Systems, Inc. A catalog may be obtained by contacting the company at 179 Ludlow Street, Stamford, CT 06902, Fax: 203-353-8431 or call 1-800-544-2637.