These are the cards that the Tarot has drawn for you. You may want to save or print this page if you would like to ponder their messages later.
Past
The Past position in the reading refers to recent events and challenges that just took place, things that lead up to the present situation, and your role in them.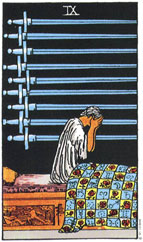 Nine of Swords
The depth of mental anguish felt by the person in the Nine of Swords is beyond description. The carving on the bed shows the violence that led to the situation, and suggests that someone you love was involved in the battle. The swords on the wall indicate that you were not struck directly at this time. Sleepless nights, anxiety dreams, and worry plagued you: note that the person sits up, head in hands, crying alone in bed. This body language epitomizes guilt, depression, and despair. There was a need for comfort, emotional shelter, forgiveness, and healing.

Present
The Present position in the reading represents what is happening right now. Typically, this is what triggers you to seek out a reading. This card can often help you to understand what steps to take next.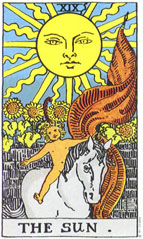 The Sun
The Sun is the twentieth card in the Major Arcana, and is given the number 19 to indicate the conscious mind represented by the Magician (1) reaching the self-actualized state of the Hermit (9). A golden-haired child rides bareback on a pure white horse, carrying a red flag. This child is reminiscent of the one who held the flowers up to death, now riding the same white horse of purity, but carrying a red flag instead of a black one, indicating vitality and passion. The child is reborn. The only item the child wears is a headdress, topped with a feather, which symbolizes truth. The Egyptian goddess Ma'at wears a feather on her head—a feather that is used to weigh the souls of the recently deceased to determine if they are worthy to join the Gods in the afterlife. The sunflowers all turn toward the child, denoting that this is truly a child of the Light, as sunflowers are known to turn toward the sun for sustenance. The sun itself shines down on the scene in all its splendor, giving warmth and light to all living things.

The Sun signals a personal rebirth. You may feel that light is finally returning to your life. Obstacles have been surmounted, filling you with a new sense of happiness. This card can indicate that some money problems are being solved. The wealth you experience may also be attributed to a new relationship, a new career, or a new feeling of health after a bout with illness. If you are currently in a committed relationship, The Sun can indicate a proposal of marriage. Overall, this card is like the welcome calm after a storm, and indicates a time of pure joy.

Future
The Future position in teh reading describes what is just around the corner. It's an official "heads up" about where the situation is heading and how you may navigate through it towards the best possible outcome.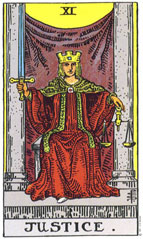 Justice
Justice is the twelfth card in the Major Arcana, and is given the number eleven, which is considered a "master" number in numerology. Though the most familiar image of justice is that of a blindfolded woman, this image stares directly at us, unhindered...much more intimidating! Marking the halfway point in the Major Arcana, she symbolizes an equality between the past and the future—and the importance of the present to them both. She holds a set of balanced scales, and a sword, upright, ready for action. With her scales, she weighs all sides evenly, and with her sword, she cuts through the many layers of illusion and lies to the deeper truth. Her crown is a symbol of her status, gained through fair dealings, and her red robes indicate her power, passion, and vitality. With one foot visible, she is poised, ready to spring forth at any time to defend and act on the judgements she decrees.

Justice in your future indicates that you will examine your past, and how the actions of your past have brought you to your present. In doing this, you will realize how what you do right now will influence who you become in the future. You will need to accept that your situation is one you helped create. In doing so, you will cut through the illusion of events to the wisdom you should be gaining from them. You can then begin to consciously take action to manifest better situations in your distant future. The Justice card often appears to signal that people will get what they deserve. If the situation in question has legal ramifications, it can indicate a fair trial, a settlement, or winning in any general legal battle...the honest side will triumph.

We hope you enjoyed your Three Card Reading. To go even deeper, try our more comprehensive Ten Card Reading.
Tarot Phone Readings
For an in-depth psychic look into your situation, call one of our Tarot phone readers and get your first three minutes free!
Kydra Sommer is available!
Certified Psychic of 25 years, Gifted Chanelor, Energy Reader Em Path ... [see more]




$2.99/min -

First Time Callers get 3 Minutes Free!*

Joy Light is available!
Psychic Medium, Spiritual Counseling on Love & Relationships, Healer ... [see more]




$4.99/min -

First Time Callers get 3 Minutes Free!*

Simon M is available!
Tarot Reader ... [see more]




$4.75/min -

First Time Callers get 3 Minutes Free!*

Sophia Elise is available!
An internationally renowned relationship and soulmate expert for over 20 years! ... [see more]




$3.99/min -

First Time Callers get 3 Minutes Free!*

Pandora Pappas is available!
Honest, fast answers here to get to the heart of matters with you ... [see more]




$7.99/min -

First Time Callers get 3 Minutes Free!*

Lola Divine is available!
Gain Insight Into Your Love, Career, and Life Purpose. ... [see more]




$2.99/min -

First Time Callers get 3 Minutes Free!*

Jennifer Scott Smith is available!
Clairvoyant and Tarot Readings, Psychic Mediumship ... [see more]




$7.99/min -

First Time Callers get 3 Minutes Free!*

Samantha Jace is available!
LOVE SPELLS CURSE REMOVAL GET WHAT YOU WANT TURN YOUR BAD LUCK IN TO PURE GOLD! ... [see more]




$5.99/min -

First Time Callers get 3 Minutes Free!*

Tony Parker is available!
Honest Accurate Tarot Expert & Psychic Medium 54+ Yrs. Exp. Free Bonus Gift! ... [see more]




$2.99/min -

First Time Callers get 3 Minutes Free!*


Illustrations and images from the Rider Tarot Deck reproduced by permission of U.S. Games Systems, Inc., Stamford, CT 06902 USA. Copyright © 1971, 1982 by U.S. Games Systems, Inc. The Rider Tarot Deck ® is a registered trademark of U.S. Games Systems, Inc. The world's largest source of tarot and cartomancy is U.S. Games Systems, Inc. A catalog may be obtained by contacting the company at 179 Ludlow Street, Stamford, CT 06902, Fax: 203-353-8431 or call 1-800-544-2637.