These are the cards that the Tarot has drawn for you. You may want to save or print this page if you would like to ponder their messages later.
Past
The Past position in the reading refers to recent events and challenges that just took place, things that lead up to the present situation, and your role in them.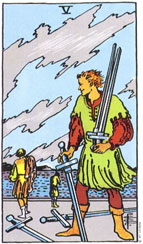 Five of Swords
The Five of Swords indicates defeat. You may have lost a battle (most likely a mental one), and found yourself in retreat, seeking to calm the choppy waters of your emotions. The character collecting the swords suggests that a score- keeper, motivated by revenge and vindication, was at the heart of your troubles. This card can also be a warning to you to avoid your own lusts for revenge, showing that only hurt and pain will be the result. These wounds you suffered needed time to heal. Even now, you should concede your defeat and find new things to focus on, letting go of this part of your past.

Present
The Present position in the reading represents what is happening right now. Typically, this is what triggers you to seek out a reading. This card can often help you to understand what steps to take next.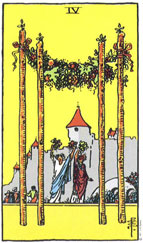 Four of Wands
The successful completion of projects is indicated by the Four of Wands. The garland hanging from the four wands suggests that your goals were recently achieved. The castle represents the solidity and splendor of what you have created. The characters in the image hold the harvest of their efforts high in the air in celebration of their success. Enjoy the well-earned fruits of completion.

Future
The Future position in teh reading describes what is just around the corner. It's an official "heads up" about where the situation is heading and how you may navigate through it towards the best possible outcome.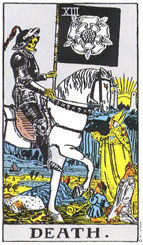 Death
Death is the fourteenth card in the Major Arcana, and is given the number 13 for many reasons...both the Death card and the number 13 are widely misunderstood. Most people regard both of them with fear, when in fact they are not cursed or unlucky at all—it is all a matter of your perspective. (That goes for physical death as well, actually.) An armored, skeletal figure rides a pure white horse, symbolic of spirituality and purity of body and soul. Death passes people from all walks of life, and each is effected in different ways that correspond to their viewpoint. The King, who believed that his existence hinged primarily on his status, title, and wealth, is laid low. The Priest, full of faith in a pleasant, rewarding afterlife, faces Death straight on. The young woman turns away out of fear and sadness, but kneels compliantly, albeit regretfully. The child, completely innocent and blissfully ignorant, offers Death the beauty of freshly picked flowers. The flowers, though beautiful, are now also dead. Interestingly enough, a flower appears on the flag Death carries. We should view Death, which essentially symbolizes change, the way the child does. In this way, Death becomes less traumatic, and more the transformation that it truly is meant to be. It is a positive passage, as the sun shining in the distance indicates.

Death in your future indicates intense change, and most people do not welcome change. In its most positive guise, Death heralds a chance to start over, a second chance in relationships, or a time of major growth. If viewed with a negative outlook, Death can indicate the unexpected, and deep rooted fears of the unknown. If you accept change as it comes and grow from it, you can release that which has gone before and get on with what is yet to come. Discoveries, opportunities, and new cycles await you. Rather than resisting out of habit, remember to embrace them, and your worries will fade away.

We hope you enjoyed your Three Card Reading. To go even deeper, try our more comprehensive Ten Card Reading.
Tarot Phone Readings
For an in-depth psychic look into your situation, call one of our Tarot phone readers and get your first three minutes free!
Hope Marlow is available!
Psychic, Tarot, &Spirit Guide Coach. Guidance for love, career, health, money ... [see more]




$3.99/min -

First Time Callers get 3 Minutes Free!*

Catz Gomez is available!
Life and Spirit Coach,Oracle of Obi, Pendulum, Oracle cards and many other decks ... [see more]




$4.99/min -

First Time Callers get 3 Minutes Free!*

Joy Light is available!
Psychic Medium, Spiritual Counseling on Love & Relationships, Healer ... [see more]




$4.99/min -

First Time Callers get 3 Minutes Free!*

Samantha Jace is available!
Can And Will Reunite Lovers Find Your Soulmate Now REAL DEAL NO "BS" ... [see more]




$1.99/min -

First Time Callers get 3 Minutes Free!*

Tommy Ross is available!
Professional Tarot Card Reader & Teacher - 16-Year Experienced! ... [see more]




$2.99/min -

First Time Callers get 3 Minutes Free!*

Syrenity Jones is available!
I am a very well enlightened Master Psychic with very powerful Spirit Guides. ... [see more]




$1.73/min -

First Time Callers get 3 Minutes Free!*

Simon M is available!
Tarot Reader ... [see more]




$4.25/min -

First Time Callers get 3 Minutes Free!*

Benita Kay is available!
Certified Angel Oracle Card Reader / Psychic / Spiritual Healer ... [see more]




$3.99/min -

First Time Callers get 3 Minutes Free!*

Shalimar is available!
Popular Psychic Intuitive~Life Coach from Salem! ... [see more]




$5.99/min -

First Time Callers get 3 Minutes Free!*


Illustrations and images from the Rider Tarot Deck reproduced by permission of U.S. Games Systems, Inc., Stamford, CT 06902 USA. Copyright © 1971, 1982 by U.S. Games Systems, Inc. The Rider Tarot Deck ® is a registered trademark of U.S. Games Systems, Inc. The world's largest source of tarot and cartomancy is U.S. Games Systems, Inc. A catalog may be obtained by contacting the company at 179 Ludlow Street, Stamford, CT 06902, Fax: 203-353-8431 or call 1-800-544-2637.