These are the cards that the Tarot has drawn for you. You may want to save or print this page if you would like to ponder their messages later.
Past
The Past position in the reading refers to recent events and challenges that just took place, things that lead up to the present situation, and your role in them.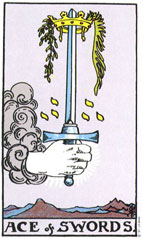 Ace of Swords
In the Ace of Swords, the crowned sword of intellect is held over the mountains, literally denoting the triumph of mind over matter. Truth and honesty prevailed, symbolized by the palm of victory, and peace was found, symbolized by the olive branch. Violent acts of force were not necessary to achieve your goals. Your determination and strength of Will surmounted the obstacles in your path.

Present
The Present position in the reading represents what is happening right now. Typically, this is what triggers you to seek out a reading. This card can often help you to understand what steps to take next.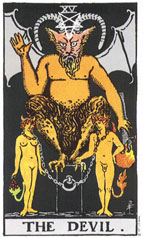 The Devil
The Devil is the sixteenth card in the Major Arcana, and is given the number 15 to indicate the Magician (1) using the (5) elements (earth, air, fire, water, and spirit) for materialistic purposes. Note the Devil's four fingers and thumb held up (5), while the cudgel (1) aims the power down at the earth...the reverse position of the Magician. The inverted pentagram on the Devil's forehead is a symbol indicating spirit submerged in and subjugated by matter, or the material world. The Devil presides over a couple from a superior position, in a perversion of the trio on the Lovers card. The couple remain chained to his solid block of stone, though the shackles are loose. They are naked, vulnerable—and yet their faces remain calm. They are entranced by the promises of superficial gain that the belief in the Devil has given them. They remain chained to their worldly desires, believing that only what is concrete and physical is important.

When the Devil appears in a reading, it can indicate pettiness, materialism, and base desires. In the Christian faiths, the Devil is the enemy. Like Lucifer, whose vanity and conceit cost him God's favor, the Devil in the Tarot can be a warning to the selfish and egotistical. Overall, the Devil is a long, hard look at our darker selves, and a reminder that if pushed to the side and allowed to fester in darkness, our dark sides only grow more grotesque, and erupt when we least expect them, or when we just plain lose control. If you fear that you have not fully accepted the parts of yourself you dislike, don't lock them away. Bring them, slowly and safely, into the light. It will break the chains, and set you free.

Future
The Future position in teh reading describes what is just around the corner. It's an official "heads up" about where the situation is heading and how you may navigate through it towards the best possible outcome.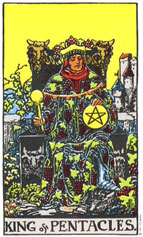 King of Pentacles
The King refers to you, or someone who strongly influences your life in the situation in question, but does not have to be male. The King's closeness with nature is apparent in the symbols of Earth's plenty, which adorn him. The flowers and grapes symbolize the beauty and bounty he enjoys, seated in his garden, reflecting on all his hard work. He gazes fondly at his pentacle: he is at ease with his status and the responsibility it bestows upon him. A successful professional, this person will be practical, and sometimes possessive. He will be content with his accomplishments. In this case, it may be his career, or his home that he will be proud of.

We hope you enjoyed your Three Card Reading. To go even deeper, try our more comprehensive Ten Card Reading.
Tarot Phone Readings
For an in-depth psychic look into your situation, call one of our Tarot phone readers and get your first three minutes free!
Kydra Sommer is available!
Certified Psychic of 25 years, Gifted Chanelor, Energy Reader Em Path ... [see more]




$2.99/min -

First Time Callers get 3 Minutes Free!*

Joy Light is available!
Psychic Medium, Spiritual Counseling on Love & Relationships, Healer ... [see more]




$4.99/min -

First Time Callers get 3 Minutes Free!*

Pandora Pappas is available!
Honest, fast answers here to get to the heart of matters with you ... [see more]




$4.99/min -

First Time Callers get 3 Minutes Free!*

Sonia Novick is available!
Psychic Relationship Expert-Medical-Healing Intuitive-Certified Remote Viewer ... [see more]




$4.99/min -

First Time Callers get 3 Minutes Free!*

R John MacDonald is available!
John psychically reads the individual's inner state and outer circumstances. ... [see more]




$3.00/min -

First Time Callers get 3 Minutes Free!*

Syrenity Jones is available!
No Frills * No Fluff * 99 % Accuract Answers *Non-judge mental *Caring ... [see more]




$2.50/min -

First Time Callers get 3 Minutes Free!*

Tiffany Davis is available!
Psychic and tarot card reader ... [see more]




$3.99/min -

First Time Callers get 3 Minutes Free!*

Julie Geigle is available!
Spiritual Psychic Medium Readings, Business Coaching, Romance & Relationships ... [see more]




$5.75/min -

First Time Callers get 3 Minutes Free!*

Yulia Applewood is available!
A Salem Witch and Natural Psychic who will Provide the Answers you Seek! ... [see more]




$6.99/min -

First Time Callers get 3 Minutes Free!*


Illustrations and images from the Rider Tarot Deck reproduced by permission of U.S. Games Systems, Inc., Stamford, CT 06902 USA. Copyright © 1971, 1982 by U.S. Games Systems, Inc. The Rider Tarot Deck ® is a registered trademark of U.S. Games Systems, Inc. The world's largest source of tarot and cartomancy is U.S. Games Systems, Inc. A catalog may be obtained by contacting the company at 179 Ludlow Street, Stamford, CT 06902, Fax: 203-353-8431 or call 1-800-544-2637.