These are the cards that the Tarot has drawn for you. You may want to save or print this page if you would like to ponder their messages later.
Past
The Past position in the reading refers to recent events and challenges that just took place, things that lead up to the present situation, and your role in them.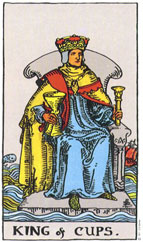 King of Cups
The King of Cups has directed his creative powers to achieve success. He has practiced self discipline, sometimes even at the expense of his dreams, to rise to power. The water seen rolling in waves denotes his emotional powers, as he is a caregiver, capable of manifesting harmonious situations and feelings. You, or one close to you, channelled creative energy into something to benefit more than yourself, or him/herself.

Present
The Present position in the reading represents what is happening right now. Typically, this is what triggers you to seek out a reading. This card can often help you to understand what steps to take next.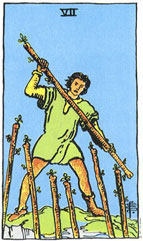 Seven of Wands
The Seven of Wands is a card of defense and confrontation. You have been forced to face a conflict head on. You are cornered and have no choice but to confront the source of the present turmoil. While you are successful and respected, there are those around you who would seek to knock you off your throne of position. Your only choices are to forfeit what you've worked for or to fight. Wands represent passion and fire and these are what you feel for your position and what you've accomplished. Use your vantage point at the top of the mountain to strategically plot your next move. This is not a time for compromise. You must adhere to your deeply held beliefs if you want to succeed in the battle.

Future
The Future position in teh reading describes what is just around the corner. It's an official "heads up" about where the situation is heading and how you may navigate through it towards the best possible outcome.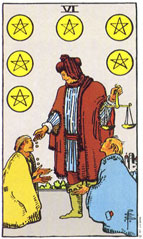 Six of Pentacles
A quick glance at the Six of Pentacles shows a generous person giving to those less fortunate. The fact that the giver is standing while the others kneel reveals the deeper meaning. The scales symbolize the balance of power, which benefits both the giver and the receiver to varying degrees in this situation. The person or entity giving bases this generosity on the power it has over those who accept the charity or aid, and this may be mental, emotional, or sexual favors, not necessarily material ones. The person giving could actually be a job, and may be dominating an entire group of people who remain in the situation because they do not want to risk a change. You may find that you will get what you need, but not what you want, and you will have to decide if your desires are strong enough to draw you out of your comfort zone.

We hope you enjoyed your Three Card Reading. To go even deeper, try our more comprehensive Ten Card Reading.
Tarot Phone Readings
For an in-depth psychic look into your situation, call one of our Tarot phone readers and get your first three minutes free!
Kydra Sommer is available!
Certified Psychic of 25 years, Gifted Chanelor, Energy Reader Em Path ... [see more]




$2.99/min -

First Time Callers get 3 Minutes Free!*

Pandora Pappas is available!
Honest, fast answers here to get to the heart of matters with you ... [see more]




$4.99/min -

First Time Callers get 3 Minutes Free!*

Joy Light is available!
Psychic Medium, Spiritual Counseling on Love & Relationships, Healer ... [see more]




$4.99/min -

First Time Callers get 3 Minutes Free!*

Allisyn Nichols is available!
Accurate Tarot Reader 30 Years Experience ... [see more]




$3.99/min -

First Time Callers get 3 Minutes Free!*

Tiffany Davis is available!
Psychic and tarot card reader ... [see more]




$3.99/min -

First Time Callers get 3 Minutes Free!*

Benita Kay is available!
Certified Angel Oracle Card Reader / Psychic / Spiritual Healer ... [see more]




$4.99/min -

First Time Callers get 3 Minutes Free!*


Illustrations and images from the Rider Tarot Deck reproduced by permission of U.S. Games Systems, Inc., Stamford, CT 06902 USA. Copyright © 1971, 1982 by U.S. Games Systems, Inc. The Rider Tarot Deck ® is a registered trademark of U.S. Games Systems, Inc. The world's largest source of tarot and cartomancy is U.S. Games Systems, Inc. A catalog may be obtained by contacting the company at 179 Ludlow Street, Stamford, CT 06902, Fax: 203-353-8431 or call 1-800-544-2637.