These are the cards that the Tarot has drawn for you. You may want to save or print this page if you would like to ponder their messages later.
Past
The Past position in the reading refers to recent events and challenges that just took place, things that lead up to the present situation, and your role in them.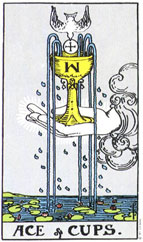 Ace of Cups
The Ace of Cups in your recent past indicates that recently, you have experienced a wellspring of emotions, especially love. Perhaps you have found a new love interest or have discovered renewed feelings if you are already in a relationship. The dove, representative of spiritual love, symbolizes the depth to which this emotional renewal has touched you. It has given you a new emotional perspective. The water flowing from the cup suggests that your emotional being (represented by the water below) has been recharged from this outpouring.

Present
The Present position in the reading represents what is happening right now. Typically, this is what triggers you to seek out a reading. This card can often help you to understand what steps to take next.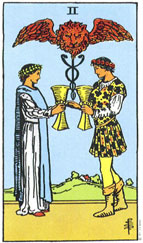 Two of Cups
Love and deep friendship are suggested by the Two of Cups. You may be in the process of entering into a fulfilling love relationship. This union is based on passion and strength, symbolized by the lion, and a healthy attitude, suggested by the Caduceus, or wand of medicine. The man and woman facing each other, staring into one another's eyes, suggest the deeper sense of understanding that exists between them. You are probably feeling understanding with this person that you have felt with few others. Perhaps marriage is on the way.

Future
The Future position in teh reading describes what is just around the corner. It's an official "heads up" about where the situation is heading and how you may navigate through it towards the best possible outcome.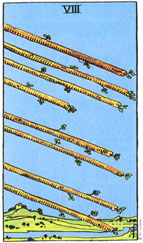 Eight of Wands
Swiftness, closure, and the end of opposition are symbolized by the Eight of Wands. The wands pointing downward, toward the lush green earth, shows that you will soon reach your destination successfully. Sometimes this card can be quite literal, indicating that you will soon take and complete a trip by air. However, most often it signifies successful and speedy completion of a goal.

We hope you enjoyed your Three Card Reading. To go even deeper, try our more comprehensive Ten Card Reading.
Tarot Phone Readings
For an in-depth psychic look into your situation, call one of our Tarot phone readers and get your first three minutes free!

Illustrations and images from the Rider Tarot Deck reproduced by permission of U.S. Games Systems, Inc., Stamford, CT 06902 USA. Copyright © 1971, 1982 by U.S. Games Systems, Inc. The Rider Tarot Deck ® is a registered trademark of U.S. Games Systems, Inc. The world's largest source of tarot and cartomancy is U.S. Games Systems, Inc. A catalog may be obtained by contacting the company at 179 Ludlow Street, Stamford, CT 06902, Fax: 203-353-8431 or call 1-800-544-2637.