These are the cards that the Tarot has drawn for you. You may want to save or print this page if you would like to ponder their messages later.
Past
The Past position in the reading refers to recent events and challenges that just took place, things that lead up to the present situation, and your role in them.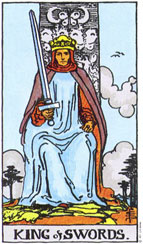 King of Swords
The King refers to you, or someone who strongly influenced your life in the situation in question, but does not have to be male. He was an authority figure who wore the yellow crown of mental energy. The butterfly on his throne is a symbol of his emergence from a chrysalis: he transformed into the confident King depicted on the card. He fought many psychological battles, and gained wisdom, hence his purple mantle. He listened carefully to all sides, basing his judgement on his own experiences, trying to make the fairest decision. The birds flying over him, symbols of Air, fly above it all. Their vantage point offers them an impartial view, just like that of the King. He sometimes appeared unapproachable, unfeeling, and cold because of his remote countenance. When you look at the root of the situation from this vantage point, what do you see?

Present
The Present position in the reading represents what is happening right now. Typically, this is what triggers you to seek out a reading. This card can often help you to understand what steps to take next.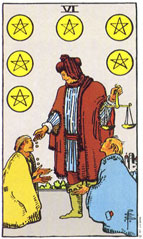 Six of Pentacles
A quick glance at the Six of Pentacles shows a generous person giving to those less fortunate. The fact that the giver is standing while the others kneel reveals the deeper meaning. The scales symbolize the balance of power, which benefits both the giver and the receiver to varying degrees in this situation. The person or entity giving bases this generosity on the power it has over those who accept the charity or aid, and this may be mental, emotional, or sexual favors, not necessarily material ones. The person giving could actually be a job, and may be dominating an entire group of people who remain in the situation because they do not want to risk a change. You may find that you are getting what you need, but not what you want, and you must decide if your desires are strong enough to draw you out of your comfort zone.

Future
The Future position in teh reading describes what is just around the corner. It's an official "heads up" about where the situation is heading and how you may navigate through it towards the best possible outcome.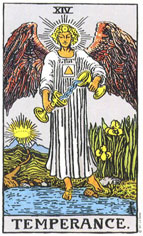 Temperance
Temperance is the fifteenth card in the Major Arcana, and is given the number 14 to indicate that the Magician (1) has now learned to combine each of the four physical elements (4), to achieve balance. An angelic figure stands with one foot on land and one on the water, pouring liquid at an impossible angle from one cup to another with ease. This entity has integrated the emotional, spiritual, subconscious realm symbolized by the water with the physical, practical, conscious realm symbolized by the earth. The balancing act with the cups and the liquid denotes the ability to juggle situations fluidly, making it look effortless...though others may wonder how it is done! The bright sun in the distance and the planetary sigil for the Sun on the angel's brow indicate a positive, promising outlook.

Temperance in your future indicates that there will be a need for moderation in your situation. To bring things back into balance, you will be required to seek common ground with those involved, and rather than react defensively, act calmly. Speak your truth evenly, without too much anger (fire), without being too wishy-washy (water). Rather than taking off in an uncharted direction that will take you far off course, follow the road through the center. It will give you plenty of choices to bear left or right when necessary, but keep you close to the safety of the well-worn path. Temperance can be a warning to slow down, or simply to stop. This may include indulgences, vices, and bad habits. Remember to rethink and re-evaluate your position, and to ground and center yourself.

We hope you enjoyed your Three Card Reading. To go even deeper, try our more comprehensive Ten Card Reading.
Tarot Phone Readings
For an in-depth psychic look into your situation, call one of our Tarot phone readers and get your first three minutes free!
Joy Light is available!
Psychic Medium, Spiritual Counseling on Love & Relationships, Healer ... [see more]




$4.99/min -

First Time Callers get 3 Minutes Free!*

Shanti Skelly is available!
Tarot, Intuitive, Medium, ... [see more]




$4.99/min -

First Time Callers get 3 Minutes Free!*

Benita Kay is available!
Certified Angel Oracle Card Reader / Psychic / Spiritual Healer ... [see more]




$5.99/min -

First Time Callers get 3 Minutes Free!*

Christine Lenihan is available!
Christine will help guide you on your path of destiny! ... [see more]




$4.99/min -

First Time Callers get 3 Minutes Free!*

Mimi Eubanks is available!
Empathic Tarot Reader and Psychic Medium ... [see more]




$4.99/min -

First Time Callers get 3 Minutes Free!*


Illustrations and images from the Rider Tarot Deck reproduced by permission of U.S. Games Systems, Inc., Stamford, CT 06902 USA. Copyright © 1971, 1982 by U.S. Games Systems, Inc. The Rider Tarot Deck ® is a registered trademark of U.S. Games Systems, Inc. The world's largest source of tarot and cartomancy is U.S. Games Systems, Inc. A catalog may be obtained by contacting the company at 179 Ludlow Street, Stamford, CT 06902, Fax: 203-353-8431 or call 1-800-544-2637.