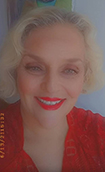 Charli Haynes has been doing psychic angel card readings since 1985. Coming from a Croatian backround, her mother was a professional dream interpreter/psychic. You can say Charli was born into the world of the mystic.
Charli's readings are clear, concise, down to earth, yet nurturing & inspiring. She focuses on career, love and your soul purpose in life. Charli's also an animal communicator & past life reader.
Charli looks forward to reading for you & helping you down your unique, individulized path.
Education and Experience
Charli has taught meditation & psychic development courses at The Learning Tree in Los Angeles, California.
She has experience in person to person & phone readings as well as readings for events/private parties.

Charli has appeared on "Hollywood Live" as a psychic & done in person readings on the show.

She has many years of experience as a phone psychic as well as email/chat readings.
Charli spent quite a few years on the Dionne Warwick's psychic line during the 1990's as well.

She taught psychic/intuitive development at the "Wishing Well" in Murietta, California.
Charli Haynes is unavailable ... but you can arrange a call back!



$3.99/min - First Time Callers get 3 Minutes Free!*
Read Charli's Feedback! | Leave Feedback | Email Charli