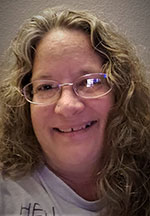 As a lifelong psychic medium, Aine continues to evolve her natural abilities through various educational methods designed to hone her skill/gifts and gain control over her natural abilities as a psychic reader and intuitive. She has received training, and continues to expand her knowledge, in various reading modalities such as Tarot, Crystal Ball, Pendulum, and other divination forms that has led her to establishing a business in 2018, as well as becoming ordained as a High-Priestess. The most common statement after a person has a reading with her is that "She uses her extensive knowledge to communicate in a thorough manner and comprehensive explanations were provided for all of my questions". Aine is also fluent in ASL after semi-retiring from interpreting after 31 years in the field.
Education and Experience
Ms. Cleda Dawson classes, Energetic Healings, BARS (Access Consciousness). Panthecon, Reiki Master certified in May of 2020. Board Member of Other Worlds of Wonder putting on the Summer Solstice festival yearly in Oregon for 13 years, three serving as President.
AineSullivan is unavailable ... but you can arrange a call back!



$3.99/min - First Time Callers get 3 Minutes Free!*
Read AineSullivan's Feedback! | Leave Feedback | Email AineSullivan