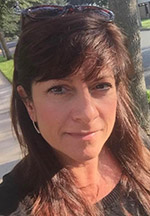 Certified Psychic and Tarot Reader with over 20 years experience. The main purpose of an Angel and Tarot card reading is to receive nurturing guidance with the help of your guides. Lizanne is capable of connecting with spirit giving you messages about your current and future life situation and receive encouraging wisdom from above. Angel cards and Tarot readings are used to predict the future. Lizanne is confident your guides will direct you on the right path.
Education and Experience
Lizanne has been a psychic all her life. Her spiritual enlightenment started In southern California over 20 years ago. She is an empath and healer using Tarot and Angel cards to see your future and using several techniques to heal your past.. including Hypnotherapy, Past Life Regression, Reiki and Crystal Healing.
Let her guides and masters help you heal your life. She has been a student and teacher of the metaphysics for over 20 years her experience will guide you on the right path.

Lizanne Blais is unavailable ... but you can arrange a call back!



$2.99/min - First Time Callers get 3 Minutes Free!*
Read Lizanne's Feedback! | Leave Feedback | Email Lizanne