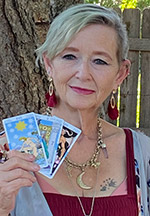 Genevieve is a natural psychic and a Salem Witch. She has been reading tarot cards since she was 13 years old and seeing spirits since she was 8 years old. She uses different modalities for different clients, such as tarot cards, oracle cards, crystal balls, a pendulum or mediumship, based upon what their individual needs are and what she psychically knows that she should use for each person. Genevieve is a powerful medium and she allows the Goddess to direct her to working with each client.

Genevieve first used her mediumship gifts as a child, and has always had the ability to see beyond the veil so that can can assist others at solving their problems. She loves to help people on their journey, and to help make the journey less arduous, through her many gifts and talents.

Let Genevieve help you with your relationships, you career and your life starting TODAY!
Education and Experience
Genevieve is a tarot card reader, oracle card reader, medium and channeller. She is a certified life coach, reiki master, and hypnotist. She is available to help you with life's problems, such as love, career, spirituality, family and general issues. She has used her mediumship talents to help find missing items and to find the answers to life's biggest problems. She can help you meet your spirit guides and archangels. She has had many lives in this incarnation, including being a stay-at-home mom, a day care provider, attorney, etc.

Genevieve has a law degree along with several bachelor's degrees. She has taken course in life coaching, hypnosis, is a Master Reiki practitioner, etc. She was born into a psychic family and had natural gifts in mediumship and tarot card reading. She is a Cabot witch and a licensed minister.
Genevieve Elizabeth is unavailable ... but you can arrange a call back!



$3.99/min - First Time Callers get 3 Minutes Free!*
Read Genevieve's Feedback! | Leave Feedback | Email Genevieve