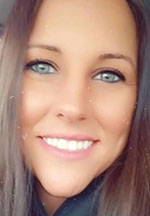 Danika has studied under the guidance of some of the top, world-renowned Psychics and Mediums. They have deemed her a "Super-Psychic", which is a real honour. It has also been said that her life purpose is to bring light, love and healing to the world. Through their help and her studies, Danika has been able to help people heal from the past and look forward toward their future. Her skills have been known to her and used since she was a little girl. Because of this, she has been growing her skills and gaining knowledge all of her life. She has been in practice for over 20yrs. Danika's goal is to help heal the world through her connection with Spirit and loved ones. She goes into deep meditation before the session so that you will receive clear and accurate information. Book a session with Danika now before spots fill up.
Education and Experience
Danika Tracy is currently enrolled as a Doctoral Student of Philosophy to obtain her PhD. Her most recent degree was in Metaphysical Science. Danika Tracy is an Ordained Metaphysical Minister and Metaphysical Practitioner. She worked hard and obtained these qualifications after her schooling from the International Metaphysical Ministery University Seminary. Danika has obtained many certifications to help her clients during her sessions.
Danika Tracy is unavailable ... but you can arrange a call back!



$2.99/min - First Time Callers get 3 Minutes Free!*
Read Danika's Feedback! | Leave Feedback | Email Danika