| | |
| --- | --- |
| | |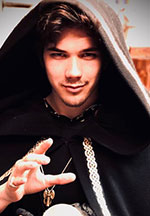 Nathan King is a witch, psychic clairvoyant, tarot reader and medium from Salem MA. Nathan has been studying and using his gifts for the last decade across North America. With a heart of gold, he uses his gifts to give readings that bring healing, guidance, and honesty to your questions. Hoping to look into your love life? Perhaps it's time to get some insight into your career? Whatever your question may be, Nathan will use his skills to part the veil between this world and the next to bring you the answers you need!
Using his pure intuition and skills as a medium and clairvoyant, he also is well trained in the art of tarot reading, oracle card reading, spirit guide connection, health scans, and tea leaf reading. He is also a skilled energy worker and known for advising in spellcraft and manifestation.
From the midwest to the booming cities of the east coast Nathan has read for people from all over the world between all ages. Uncanny in his predictions and dedicated to his craft, Nathan King works to help you, whatever your question may be.
Education and Experience
Nathan's abilities started manifesting by the time he was 8, he later started to formally study and develop his gift as a psychic medium and clairvoyant carrying on the mystic tradition. Originally trained in his home state of Michigan, Nathan has worked and presented workshops with groups such as Michigan Pagan Fest and the Detroit Conjure and Folk Magick Festival. Now for the past two years, Nathan has worked as a professional advisor in Salem Ma with Enchanted LLC and is regularly available at Crow Haven Corner, the oldest witch shop in Salem. Nathan has also trained with Official Witch Laurie Cabot and fellow psychic Timothy Regan. Nathan has also been featured on the travel channel, the Boston Globe, and SYFY for his witchy workings around the northern hemisphere. Still teaching, writing, and producing artistic content for the witch world, he looks forward to guiding you!

Advising clients since childhood and a dedicated initiate and priest of modern witchcraft. As well as a Reverend of the Universal life church, serving as Wiccan clergy.
Serving his community with compassion, straight-forwardness, and specific answers.
ORACLE, TAROT, CLAIRVOYANCE, MEDIUMSHIP, FOLK MAGICK, GUIDANCE

Ask Questions!
General readings
Love
Career
Family
Health
Spiritual connecting
Life Coaching
Connecting with departed loved ones
Spirit guides
Creative coaching

Never had a psychic reading before??
A psychic reading is a snapshot from the universe showing us our path and helping us gain the perspective we need. Nature shows us this with patterns and visions to guide the soul through the human experience. With wisdom, we seek to gain insight for our betterment. Luckily, Nathan is also blessed with the talents and skills of a witch. A witch will always not only tell you what to expect but also HOW to navigate that outcome.

How to get the most out of your reading

Have your question firmly fixed in your mind and try to word it as honestly as you can.

Have a paper and pen on hand to write down any key information, so you can reflect on your reading

Deep breaths and relax, we are here to help!

Nathan P King is unavailable ... but you can arrange a call back!



$3.33/min - First Time Callers get 3 Minutes Free!*
Read Nathan's Feedback! | Leave Feedback | Email Nathan