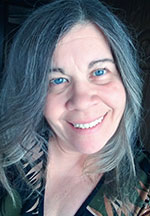 Lana has been guiding and advising people with emphatic gifts for over 40 years. Along with her intuitive nature she began using Tarot as a tool about 20 years ago as a way to further light her clients paths and choices. Lana is very passionate about connecting on a personal level with her clients. She offers valuable insights in the areas of Love, relationship, family and your life in pursuit of positive energy. She is a life coach with invaluable advice building a relationship of trust. Helping clients find peace of mind and to help light their journey to self-actualization.
Education and Experience
BFA in Visual Communications
School of life: Many lessions learned from personal events and events happening to those I crossed paths with. Good will come from bad situations.
Helping clients to empower and improve themselves though: Readings, meditation, breathing techniques and cleansing of the soul.
Lana Mabbitt is unavailable ... but you can arrange a call back!



$3.99/min - First Time Callers get 3 Minutes Free!*
Read Lana's Feedback! | Leave Feedback | Email Lana