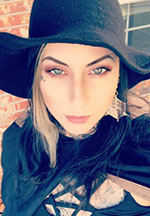 Alison is a highly intuitive and otherworldly clairvoyant with intense connections to the spirit world. With the assistance of her spirit guides, Alison will provide you with the answers you need to flourish in your personal, professional, romantic and family life. Alison specializes in Clairvoyance, Clairaudience, Angel Communications, Reiki, Spirit Mediumship, Tarot, Oracle Cards, Past Life Regressions, Psychometry, Animal Communications, Remote Viewing, and Crystal, Quantum, Lemurian, and Atlantean Healing.
Education and Experience
Alison is certified in crystal, quantum, Lemurian, and Atlantean Reiki.
She has over 10 years of experience in reading tarot and oracle cards professionally.
Alison also specialized in psychometry, animal communication, remote viewing, spirit mediumship, past life regression and angel communications.
Alison Soucy is available ... and ready to take your call!



$7.77/min - First Time Callers get 3 Minutes Free!*
Read Alison's Feedback! | Leave Feedback | Email Alison