| | |
| --- | --- |
| | |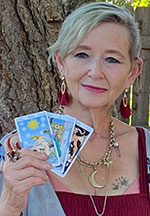 Michelle Roller has been reading tarot cards since she was 13 years old. She was born into a psychic family and has continued her pursuit throughout her life. She reads tarot cards, oracle cards, utilizes a crystal ball, a pendulum, and her own mediumship gifts when working with a client so that she brings to the client all the gifts she has at her disposal. She has been using crystals since 1987, when she became ill and rather than rely upon traditional medicine, began to use crystals and herbs, which she found healed her as well, if not better, than traditional medicine.

Michelle Roller first used her medumship gifts as a child, and has always been a person who could see beyond the veil that is in place, so that she can assist others at solving their problems. She loves to help people on their journey, and to help make the journey less difficult, through her gifts and talents.

As a young girl, she heard stories from and about her paternal uncle who was a well-known medium who worked with celebrities and writers. She learned from her mother's side of the family also, many of which had been born in Ireland and knew of the old ways. Michelle was able to grow up in acceptance of her gifts.

Education and Experience
Michelle Roller is a certified tarot card reader, oracle card reader, medium and channeller. She is available to help you with life's problems, which can include love, jobs, spirituality and general life issues. She has used her mediumship talents to find missing items and to help people find the answers to life's biggest problems. She has had many lives in this incarnation, including being a stay-at-home Mom, a day care provider and now a lawyer and psychic.

Michelle Roller has a Juris Doctor degree from Oklahoma City University and several B.A.'s from the University of Arkansas. She is a licensed attorney both in state and federal court. She is a Master Reiki Practitioner. She has completed several life coaching courses. She is currently enrolled in a mediumship course, since all mediums, even those that are born into a psychic family and have natural gifts, need to continue to study to continue to hone and grow in their talents. A pianist may have natural talent, but without study, the music sounds like a cacophony. She is a licensed minister through the Universal Life Church.
Michelle Roller is unavailable ... but you can arrange a call back!



$3.99/min - First Time Callers get 3 Minutes Free!*
Read Michelle's Feedback! | Leave Feedback | Email Michelle