| | |
| --- | --- |
| | |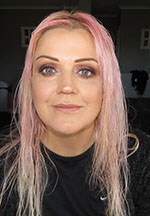 HUGELY POPULAR IN NZ AND AUSTRALIA, DEBS IS PLEASED TO OFFER HER READINGS FOR THE USA, CANADA AND UK.

Debs is a High & Advanced Level Professional Psychic Medium Clairvoyant with a solid Reputation Internationally for proven consistent accuracy in evidential readings. Her strong empathetic and psychic ability means you are quickly assured of a legitimate, pure connection. Debs empowers her clients by using all of the Clair-senses, remote viewing, and more! This wonderful ability means that she gives her clients clear,honest answers and relevant key information. Being a specialised psychic energy reader with strong empathetic qualities that she combines with her ability as a pure channel; means that Debs can very quickly pick up intricate and relevant information. This unique reading style is much more concentrated, meaning you get a lot of specific, relevant information through in a shorter amount of time.

"Fast validation, and key points of evidential reference without lots of questions to the client, provides proof of a strong and authentic connection in psychic- medium and clairvoyant readings. It is a key factor in determining the true ability of a reader. Therefore being able to provide this immediate information via Spirit ,that is true and specific to each client, is something that Debs prides herself on."

A wonderful Reader whose intricate details and insight will leave you amazed, and uplifted. Use of all the clairsenses brings further details to your reading with Debs.


HER CONSISTENT PSYCHIC ACCURACY WITH AMAZING INSIGHT IS REFLECTED BY MANY GENUINE EXCEPTIONAL REVIEWS & REPEAT CLIENTS!

You will quickly understand why this highly talented reader is often referred to by her clients as one of the best and most authentic telephone and in-person psychic readers! A RELAXED, FLOWING AND EFFORTLESS NATURAL PSYCHIC CONNECTION!

Debs is also a highly gifted Spiritual Medium and can connect you with loved ones (human and animals) who have passed over to the other side. It is best to book for these sessions.

Education and Experience
Debs psychic gift is a natural part of her and she has lived with one foot in Spirit her whole life, so she has a brilliant understanding of energies, and the more intricate details of any given situation. With professional reading experience that spans for well over 25 years, you will be pleased to have spent time talking to Debs. Her multi intuitive abilities include all of the clairsenses that have fine tuned and evolved through each life lesson, where she learnt to bring her natural Spiritual ability through into Reality, to give clarity, and comfort to her clients.

Debs specializes in many areas, and your readings maybe a combination of any of the following attributes.

 Spiritual Counselling  Medium-ship  Emotional healing  Remote viewing  Soul Reach and Soul Retrieval  Automatic writing  Life Coaching  Synchronicity  Aura reading and insight  Clairvoyance  Psychic Vision  Clair-audience  Clair-sentience  Empathetic  Energetic reading  Heart Centered Balancing  Chakra healing  Validation of your journey, past, present and future  Soul Mate Connections  Life Lessons  Higher Awareness  Health and well being energy psychic readings  Medical intuition  Near Death Experience Insight  PTSD insight  Life transitions  Relationships  Psychometry  Out of body experiences  Déjà vu  Past Lives  Empath  Astral Travel  Understanding the Higher Self  Arch Angels  Mind, Body, Spirit  Body and Aura Scanning  Medical Intuitive  One consciousness  Higher Consciousness  Divine Spirit  Ascended Masters  And more!..


Debra A Sinclair is unavailable ... but you can arrange a call back!



$4.99/min - First Time Callers get 3 Minutes Free!*
Read Debra's Feedback! | Leave Feedback | Email Debra