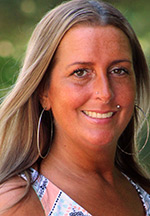 Jennifer Scott Smith has been practicing professionally for over 13 years. She is Clairvoyant, Clairaudient, Clairsentient, and Clairalient. She is also a Psychic Medium and can help you connect with passed loved ones.
Jennifer taps into your energy in order to provide accurate and heartfelt readings. Her goal is to heal, and also to provide growth opportunities and instructions for you and your life.
Education and Experience
Jennifer Scott Smith has a BS in Psychology and an MA in Clinical Counseling. She has been reading professionally for over 13 years. She is a Rosicrucian, Martinist, an Ordained Minister, a Hoodoo Rootworker, and a White Witch.
Jennifer Scott Smith is unavailable ... but you can arrange a call back!



$6.99/min - First Time Callers get 3 Minutes Free!*
Read Jennifer's Feedback! | Leave Feedback | Email Jennifer