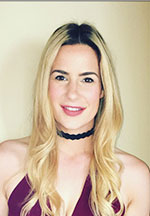 Christina Manning has been seen all over the world giving professional psychic readings for 15 years. She started getting visions at 14 years old that would appear in her mind's eye moments before it would happen in real time. Shortly after that, she started giving detailed future predictions to her friends and family. At 18 years old, her Mother, also a psychic, pulled her aside to explain to her that the things she was experiencing were actually a natural born gift. After that, she began traveling the world to give readings.

Christina's readings are very detailed and accurate. She will also give you specific timeframes. She is an empath, so she can describe to you how he/she is feeling in real time. Christina is a tarot card master, and can also read your tarot cards if requested.
Education and Experience
Over 15 years of professional experience.
Christina Manning is unavailable ... but you can arrange a call back!



$5.99/min - First Time Callers get 3 Minutes Free!*
Read Christina's Feedback! | Leave Feedback | Email Christina