| | |
| --- | --- |
| | |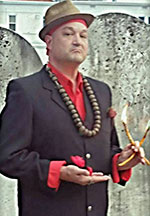 Sen Moise is a descendent of the prophet Moses. He sees the world of magic as the flowing river. It is a constant that is ever moving and changing and is the very balance of the cosmos. It is in this balance that the mind opens and the unseen becomes reality, allowing Sen Moise to perceive the truth you seek.
Taught by his grandfather, an old-style southern rootworker, to speak with the ancestors at a young age, Sen Moise was able to see the spirits by the age of four, learning to open the door to power, wisdom and service. He is a servant of Spirit and, in turn, the people. Things seen and unseen are understood by him because of his relationships with those who came before and his connection to the unity of the flowing river. The dead hear his voice and he hears theirs.
Sen Moise will ask and petition that the spirits impart their wisdom to you, leading you to your deepest desire. Sen Moise sees, hears, feels and knows what the spirits do. This is his life. This is his nature. This is his call. Let him guide you and you will discover the truth you seek.

Education and Experience
Raised in Southern Conjure, Sen Moise has spent his life not only working with the spirits of those who came before him, but also working for others. He is Hougan Asogwe (initiated Vodou Priest), made in Lathan, Haiti. Sen Moise has a strong connection with spirit, their wisdom and the opening of doors. Sen Moise is also a Padre Nganga (High Priest) in Palo Mayombe. He draws from 34 years of experience having one eye in the realm of the physical and one in the realm of the spirt in order to see the paths of the two, where they cross and how to create change in the lives of others. Sen Moise is an active worker, reader and teacher and has made it a point to show how change, improvement and power can be achieved by those who seek it.
Sen Moise is unavailable ... but you can arrange a call back!



$5.99/min - First Time Callers get 3 Minutes Free!*
Read Sen's Feedback! | Leave Feedback | Email Sen