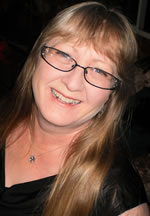 Barbara utilizes tarot cards, angel cards, oracle cards, and intuition to discern information from the spirit realm in order to answer your questions. Barbara uses her extensive 10 plus years of training to center on intuitively guiding you to self realization, as well as assisting you to discover your life pathway, where your romance may be going, and help you become in tune to how your body is talking to you and what it needs. Specializing in karmic regression, Barbara can also look into your past lives to determine what may be blocking you in the present. Barbara is able to answer your inquiries, and provide intuitive coaching to assist you in becoming the best you possible.
Education and Experience
Barbara has been certified in the following designations; Angel Card Reader, Celtic Reiki Realm Master, Intuitive Coach and Karmic Regression Practitioner. Barbara is constantly learning and improving in order to better assist others.

Barbara Hyland is unavailable ... but you can arrange a call back!



$2.99/min - First Time Callers get 3 Minutes Free!*
Read Barbara's Feedback! | Leave Feedback | Email Barbara