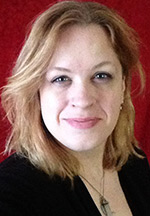 Finding the right answers in life on our own about love, relationships and your career can be difficult. There are so many choices, so many signs, but how do you interpret them? Without the help of an expert, it's often hard to see and find your right path.

That's where I can help. I have been blessed since a young girl to be able to see, hear, and feel angels, spirit guides and ghosts. I have learned how to use my psychic gifts to help guide people on their life path.

With my God-given abilities and specialized training as a certified Angel Life Coach, I can connect you with your spirit guides and Angels and help you find the answers in life, love and career decisions.

"Will I meet someone?"
"Is my boyfriend cheating on me?"
"Will I get that new job?"

Let me help you find the answers. After our sessions together, you will find healing, balance, and strength to be happy, healthy and successful.






Education and Experience
Lisa is a Certified Angel Life Coach, Psychic Channeler, Certified Integrative Nutritional Health Coach as well as a Certified Fairyologist. Lisa has been channeling with the Angels and Guides for over 23years.

Testimonials:


"I had an Angel reading with Lisa and was really impressed and touched by not only the messages I received (which were exactly what I needed to hear and amazingly accurate!) but also by Lisa's authenticity and heart that she put into the session. I would highly recommend her to anyone really, the session was profound and beautiful, thank you Lisa for your compassion, love, wisdom and incredible insight. " - Zannah

"I was really attracted to what Lisa does when I saw her live on our facebook group. Firstly she is spiritual and works with angels and secondly she wants to help people. I messaged her and asked for a reading, she got back to me quickly and we arranged a reading over the phone the next day. I was feeling so lost within my carrer and didnt really know which path to take. I felt like I had too many things going on at once but wanted to train as a self love coach too. I really needed some guidance. When we spoke, I told Lisa how I felt and she confirmed what was deep in my heart. I now feel more focused and am celebrating baby steps. Thank you Lisa for your wonderful guidance, I am so thankful. You are an amazing woman." Robin
Lisa Gober is unavailable ... but you can arrange a call back!



$3.33/min - First Time Callers get 3 Minutes Free!*
Read Lisa's Feedback! | Leave Feedback | Email Lisa